Course Overview
The Advanced Certificate of Histopathology for Dermoscopy course offers a comprehensive guide to the principles of dermatopathology and will help you understand and interpret pathology reports. Led by experts in the field, the course will develop your overall diagnostic skills to an accomplished level and teach you what dermatoscopic features correlate with histology slides.
The skills learned will improve your ability to communicate with dermatopathologists, potentially question reports that are inconsistent with your dermatoscopic findings and make predictions about the specific histological diagnosis. You will learn how to assess features of normal skin, melanocytic lesions, tumours, naevi and inflammatory conditions, and will be equipped will the know-how to apply this knowledge in the primary care setting.


Entry Requirements and course requisites
The Advanced Certificate of Histopathology for Dermoscopy is ideal for medical professionals who wish to better understand pathology test results which is critical for reaching appropriate diagnoses and planning treatment. The course is suitable for medical doctors as well as for International Medical Graduates. The course assumes no prior knowledge or training in the field. Participants do not have to pass an IELTS test but, as the courses are delivered in English, proficiency in listening, reading and writing in English is assumed.
Course Contents
The Advanced Certificate of Histopathology for Dermoscopy offers an excellent opportunity to enhance your knowledge of skin pathology, biopsies, histology and dermoscopy in order to diagnose and manage the majority of skin lesions encountered in primary care.
The modules cover:
Introduction to dermatopathology
Histology
Biopsies
Dermatoscopy
Specimen processing
Melanocytic lesions
Non-melanocytic lesions
Dysplastic naevi
Course participants will:
Receive access to a digital workbook which can be downloaded prior to the course for your convenience

Receive unlimited and ongoing access to research/readings in the field, free alumni learning resources and video lectures, as well as invite-only events and special offers after completion of the course

Have the opportunity to participate in optional clinical attachments at dedicated skin cancer clinics
MASTERCLASS OUTLINE
Saturday
Time
Session
Topic
8:00am - 9:00am
Registration
Sign-in and collect your lanyard and workbook
9:00am - 10:00am
Session 1a

Welcome and introduction

Introduction to dermatopathology

Cliff Rosendahl
10:00am - 11:00am
Session 1b

Correlation cases

Cliff Rosendahl
11:00am - 11:30am
Morning Tea
11:30am - 12:30pm
Session 2a

Non-melanocytic lesions (part 1)

Cliff Rosendahl &


Simon Clark
12:30pm - 1:00pm
Session 2b

Virtual slides

Simon Clark

1:00pm - 2:00pm
Lunch
2:00pm - 3:00pm
Session 3

Non-melanocytic lesions (part 2)

Cliff Rosendahl

3:00pm - 3:30pm
Afternoon Tea
3:30pm - 4:00pm
Session 4a

Virtual slides

Simon Clark

4:00pm - 5:00pm
Session 4b

Dysplastic naevus: Fact and fiction

Cliff Rosendahl &
Simon Clark
Sunday
Time
Session
Topic
7:45am - 8:00am
Arrival
Sign in
8:00am - 9:00am
Session 5a

Specimen processing: Does the type of biopsy make a difference?

Simon Clark
9:00am - 10:00am
Session 5b
Correlation cases
Cliff Rosendahl &
Simon Clark
10:00am - 10:30am
Morning Tea
10:30am - 11:30am
Session 6a

Melanocytic lesions (part 1)

Simon Clark
11:30am - 12:00pm
Session 6b

Correlation cases

Simon Clark
12:00pm - 1:00pm
Lunch
1:00pm - 2:00pm
Session 7

Melanocytic lesions (part 2)

Simon Clark

2:00pm - 2:30pm
Afternoon Tea
2:30pm - 3:30pm
Session 8a

Correlation cases

Cliff Rosendahl &




Simon Clark

3:30pm - 4:00pm
Session 8b

Conclusion and open forum

Cliff Rosendahl &
Simon Clark
COURSE FEES AND PAYMENT OPTIONS
REGULAR TUITION FEE
$1,995
Full payment on the day of registration
DEFERRED PAYMENT
$530 x 4
Defer your payments over several months.
GP REGISTRARS:Doctors in training receive a HealthCert Scholarship and save up to $350 on online certificate courses and up to $500 on certificate courses that include a practical workshop. This offer cannot be used in conjunction with the Early Bird special.
Your instructors are widely regarded as some of the leading experts in the field of skin cancer medicine and dermatopathology, including:

Prof Cliff Rosendahl
MBBS PhD
Professor and Course Coordinator MMed (Skin Cancer) Program School of Medicine, The University of Queensland, Australia
Professor Cliff Rosendahl currently works in Brisbane as a primary care practitioner with a special interest in skin cancer. He also has an interest in research as the clinical developer and Director of the Skin Cancer Audit Research Database (SCARD). His other main area of research has been in evaluating dermatoscopic clues and artificial intelligence for the diagnosis of skin malignancy in collaboration with colleagues at the Medical University of Vienna, Austria.
Prof Rosendahl has published over 70 articles in peer-reviewed journals and authored/co- authored two textbooks. He has a busy schedule presenting to GPs in Australia and to GPs and dermatologists internationally.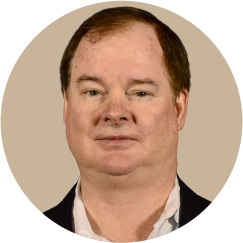 Dr Simon Clark
MBChB FRCPA Specialist
Honorary Lecturer in Pathology, The University of Queensland
Dr Simon Clark runs the pathology component of the postgraduate certificate courses in skin cancer medicine at The University of Queensland and lectures in the Masters of Medicine course. He has been involved in dermatopathology education for more than 20 years, training registrars in dermatology, pathology and plastic surgery. More recently he has been active in GP education. One of the best known dermatopathologists in Australia, Simon was recently appointed a visiting professor in dermatology at the Tehran University of Medical Sciences.
COURSE DELIVERY
Upon registration, you will be able to access all learning contents immediately and complete the course online.
We offer a 'start anytime online' course structure, which gives flexible start and completion times for studies, as well as exam extensions, to fit in with busy schedules. You can enjoy the flexibility to study at your own pace, in your own time, within your home or office, and on your favourite mobile device. The modules are set up in such a way that you are not required to be online at specific times but can view and replay the video lectures at your convenience. With no travel, accommodation or out-of-office expenses incurred, you can build critical skills and tailor your career while working in a busy practice or raising a family.
What you get for your one-off investment:

11 video lectures, including all content from the face-to-face course.
All presentation slides available for download.
Assessment
In order to meet the requirements of professional and academic learning, the masterclass assessment includes professional requirements and two online examinations.
Develop a one-page report/explanation of how you will use the learning from this masterclass in your professional work.
Compile a report listing the resource materials that you have collected to advance and apply your knowledge.
Online assessment
88 knowledge questions based on a scenario of a medical practitioner undertaking special interest training.

11 per module
Example: The medical practitioner believes that 10% of the population … Is he correct? Yes/No


88 authentic scenario-based questions based on cases of patient care at a clinic

11 per module
Example: A patient arrives at your clinic with this problem …what should you do? Multiple choice images based on patient cases.
The knowledge-based examination is worth 50 per cent and the application-based examination is worth 50 per cent. The overall pass mark is 80 per cent. It is therefore not possible to pass this masterclass on knowledge alone. Knowledge must be successfully applied to patient cases in order to pass.
HealthCert recommends completion of the assessment at your convenience within three months of the completion of the masterclass.
Certification and ACCREDITATION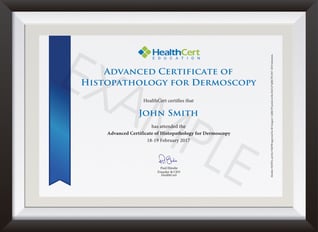 Upon successful completion of the course requirements, you will receive a certificate of attendance for the Advanced Certificate of Histopathology for Dermoscopy. To learn more about the delivery of certificates in Australia and overseas, please visit our FAQs.
RACGP CPD Accredited Activity 30 Points
ACRRM
- PDP units: 5 Educational activity, 15 Performance review
- MOPs points: 15


This course:
Provides CPD points from the Royal Australian College of General Practitioners (RACGP).
Provides PDP points from the Australian Council of Rural and Remote Medicine (ACRRM).

Is recognised by the Royal New Zealand College of General Practitioners (RNZCGP).

Is recognised by the Hong Kong College of Family Physicians (HKCFP). The HKCFP recognises all courses endorsed by the RACGP. Points are calculated differently.
Is a self-submitted activity in Dubai. The number of CPD points must be stated on the certificate. Please contact PLD@dhcr.gov.ae for more information.
Is a self-submitted activity in the UK. CPD events overseas, applicable to a doctor's scope of practice, may be submitted for revalidation. Please confirm with your Responsible Officer.
Is a self-submitted activity in Canada through the College of Family Physicians of Canada. Category 1 points are reported as certified and

Category 2 points are reported as non-certified. Contact

mainprocredits@cfpc.ca

for more information.
Meets World Federation of Medical Education standards.
Has been independently developed with subject specialists and does not receive education grants from any pharmaceutical company.
Accredited by

Accredited by