Program Overview
Led by renowned skin cancer surgeon Professor Sharad Paul, the intensive Skin Cancer Surgery Masterclass is tailored to GPs who have completed a HealthCert skin cancer surgery course and are experienced in the field. The program is designed to enhance skin cancer surgical knowledge at the highest level, allowing you to independently manage the majority of patients with skin cancer concerns.
Course Contents
The Masterclass offers an excellent opportunity to complete your knowledge of skin cancer surgery with
comprehensive practical training in a variety of surgical techniques.
The theory and practical sessions cover:
BEST lines
Scalp closures
Golden spiral flaps
Lower limb closures
Fascial release flaps on the lower limb
Review of SMAS and application for cheek closures
Facial oblique flaps
Theory and practical tips and tricks
Course participants will:
Participate in discussion of patient cases, evaluate and make decisions.
Receive a comprehensive course folder and research/readings in the field.
Be able to participate in an optional clinical attachment available at dedicated skin cancer clinics.
COURSE OUTLINE
Saturday
Time
Session
Topic
8:30am - 9:00am
Registration
Sign in and collect your lanyard
9:00am - 10:30am
Session 1
Introduction to BEST lines
Theory
10:30am - 11:00am
Morning tea
11:00am - 12:30pm
Session 2
Tips and tricks
Theory and practical
12:30pm - 1:30pm
Lunch
1:30pm - 3:00pm
Session 3
Scalp closures and golden spiral flaps
Theory
3:00pm - 3:30pm
Afternoon tea
3:30pm - 5:00pm
Session 4
Golden spiral flaps
Practical
Sunday
Time
Session
Topic
7:45am - 8:00am
Registration
8:00am - 9:30am
Session 5
Lower limb closures
Theory
9:30am - 10:00am
Morning tea
10:00am - 11:30am
Session 6
Fascial release flap
Practical
11:30am - 12:30pm
Lunch
12:30pm - 2:00pm
Session 7
Review of SMAS and application for cheek closures
Theory
2:00pm - 2:30pm
Afternoon Tea
2:30pm - 4:00pm
Session 8
Case studies
Theory
Bring case studies for discussion
SESSIONS
DAY ONE

DAY TWO


Session 1: Suturing

Getting the basics right, this session includes clinical videos and student practicals covering a variety of suture types, including:

simple interrupted
buried dermal
sliding dermal
vertical horizontal mattress
Mirini
pulley dermal
half buried horizontal mattress
continous.

We also focus on closing dead space and paper-thin skin on elderly patients.


Session 5: Ellipse Planning

In this session, students will break up into small groups and work around torso models marked with specific lesions. Students will work together to design the most appropriate ellipses to treat these lesions, using knowledge gained in earlier sessions and with reference to NHMRC guidelines. Groups will also learn to mark out major nerves at risk including the temporal and marginal branches of facial nerves, Erb's point, and common peroneal nerves using surface anatomy.


Session 1b: Perfecting the Ellipse

Students will learn how to mark out a lesion using a dermatoscope with appropriate margins for both non-melanoma and melanoma skin cancers. This session includes marking a standard ellipse and S-plasty, designing your ellipse for optimal scar results, working with ellipses around joints, and facial skin tension lines. We also cover tips for optimum wound apposition and undermining. The session includes video and clinical images of ellipses on a variety of anatomical areas.


Session 6: Chaos and Clues

Using a dermatoscope improves diagnostic accuracy for all types of skin malignancy, but only if the operator is trained. Chaos and Clues is a method designed for use in routine practice on multiple lesions without mathematical calculations.


Session 2: Local Anaesthetics

We will go into detail on local anaesthetics with both theory and practical components. We will cover pharmacology, toxicity, buffering, needles, nerve blocks, injection techniques, and risk areas and specific sites for injection. We will demonstrate how to prepare buffered lignocaine, practice use of Luer Lock and Luer Slip syringes with injection and infiltration on pig skin, and demonstrate injection sites with clinical video clips. We will also cover surface anatomy of trigeminal nerve branches and blocking these nerves.


Session 6b: Topical Treatments

Topical treatments are becoming more and more effective for certain lesions. In this session, we look at what works and what doesn't. We will review Fluorouracil, Imiquimod and Ingenol Mebutate, and look at the indications, application, contraindications and tips for use. We will also cover field versus specific lesion treatment. Clinical case studies will make up a key part of this session.


Session 3: Incision/Haemostasis

In this practical hands-on session, we will be covering punch and shave biopsies and use clinical videos to demonstrate proper techniques. As part of the practicals, we will cover mono and bipolar cautery with hands-on practicals and video demonstrations for effective cautery. We will cover the fire risk of cautery with alcohol and the safety aspects of pacemakers and other implanted electrical devices. We will also extend the proper shave technique to the HALO graft including marking out, dressing and aftercare.


Session 7: The Big Three

In this session, we look at the big three: BCC, SCC and melanoma. We look at the main types of BCC, their dermatoscopic features, margins, perineural invasion, radiotherapy treatment and other treatment modalities available. With SCC, we cover IEC differentiation, biopsy, aggressive and tame types, and the treatment modalities available. We also cover the various types of melanoma and look at margins, Breslow thickness, various biopsy methods, and when and what to refer.


Session 4: Curettage/Cautery

Continuing from session 3, we will cover curettage and cautery with theory, clinical video and student practicals. We will look at appropriate sites, and discuss keloid and hypertrophic scar risks and appropriate lesions for this modality. Practicals for this session will be done on pig skin models. We will also cover dressings and aftercare for curettage and cautery, and cover the Medicare item numbers used. The cryotherapy segment will include safe handling of liquid nitrogen, clinical video, and consideration of appropriate sites for this modality.


Session 8: Case Management

In the final session, we summarise the learning outcomes with a series of case studies. Each case study includes clinical images from different locations and types of lesions. This session includes group discussion on the appropriate modality such as topical treatments, cautery, curettage, type of biopsy to be used, and excision.
Professor Sharad Paul is a global expert in the field of Skin Cancer Surgery. He is the editor of "Clinical Cases in Skin Cancer Surgery and Treatment" (Springer), and more recently the ground-breaking "Biodynamic Excisional Skin Tension Lines for Cutaneous Surgery" (Nature Springer).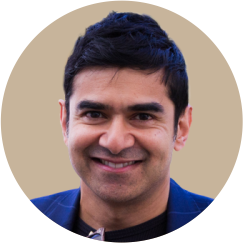 Prof Sharad Paul
Adjunct Professor, Auckland University of Technology
Senior Lecturer, Faculty of Surgery, University of Auckland
Senior Lecturer, Skin Cancer, The University of Queensland.
Professor Sharad Paul initially embarked on surgical training in general/plastic surgery and has worked as a surgical consultant in public/teaching hospitals and in primary care in the field of skin cancer. Since 1996, his skin surgery clinic has performed over 45,000 skin cancer operations; it is known as having one of the largest series of skin cancer patients worldwide. He established the first primary care skin cancer surgery courses at the University of Auckland in 1996.
Sharad is Professor at the Auckland University of Technology and a Senior Lecturer (Skin Cancer) at the School of Medicine, The University of Queensland and Senior Lecturer, Department of Surgery at the University of Auckland. Given these academic and teaching attachments, he has a long list of conference keynote presentation and publications in peer-reviewed journals. Sharad is a Fellow of the Skin Cancer College of Australasia and has also been conferred the Distinguished Fellowship of the Royal NZ College of General Practitioners. In 2015, he was awarded the Ko Awatea International Excellence Award for Leading (Health) Improvement on a Global Scale.
Sharad is the editor of Clinical Cases in Skin Cancer Surgery and Treatment (Springer), and more recently the ground-breaking Biodynamic Excisional Skin Tension Lines for Cutaneous Surgery (Nature Springer). He is the author of several books for popular audiences in the fields of skin, medicine and literary fiction.
COURSE FEES AND PAYMENT OPTIONS
REGULAR TUITION FEE
$2,995
Full payment on the day of registration
EARLY BIRD RATE
$2,795
Register 30 days prior to the course commencement date.
DELIVERY FORMAT
The Skin Cancer Surgery Masterclass is delivered face-to-face and features expert demonstrations and practical surgical sessions under the guidance of Professor Sharad Paul and a team of surgical assistants. There is no formal assessment for workshops, but specific individual feedback is provided by the presenter.
What you get for your one-off investment:
Two-day practical course including catering.
All materials including surgical instruments and consumables for practical sessions.
All presentation slides

available for download
Certification and ACCREDITATION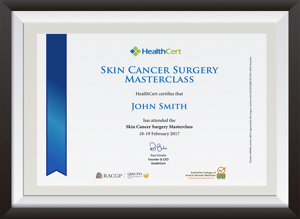 Upon successful completion of the course requirements, you will receive a certificate of attendance.
RACGP: 40 Category 1 points
ACRRM: Equivalent points
This certificate course:
Provides CPD points from the Royal Australian College of General Practitioners (RACGP).
Provides PRPD points from the Australian Council of Rural and Remote Medicine (ACRRM).
Is recognised by the Royal New Zealand College of General Practitioners (RNZCGP).
Is recognised by the Hong Kong College of Family Physicians (HKCFP). The HKCFP recognises all courses endorsed by the RACGP. Points are calculated differently.
Is a self-submitted activity in Dubai. The number of CPD points must be stated on the certificate. Please contact PLD@dhcr.gov.ae for more information.
Is a self-submitted activity in the UK. CPD events overseas, applicable to a doctor's scope of practice, may be submitted for revalidation. Please confirm with your Responsible Officer.
Is a self-submitted activity in Canada through the College of Family Physicians of Canada. Category 1 points are reported as certified and

Category 2 points are reported as non-certified. Contact

mainprocredits@cfpc.ca

for more information.
Meets World Federation of Medical Education standards.
Accredited by

Accredited by

Recognised by